Powerful features, simplified.
The Making Money out of Property Software brings your whole property portfolio together in one easy to use, fully integrated system.
Easy to use: No courses or training manuals.
Buy right: Compare different potential properties.
Project performance: Determine growth, cash flow and profits.
Keep track: Get auto reminders for rent, expiring leases and more.
Full portfolio analysis so you can see the complete picture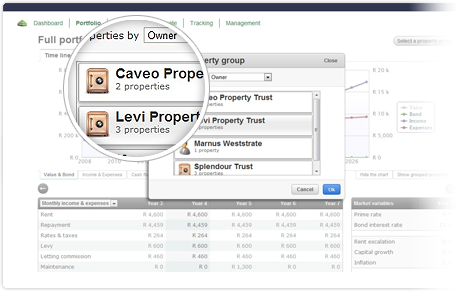 The Making Money out of Property Software makes it easy to see a complete picture of your portfolio. Everything together, including income, expenses, cash flow, profits, capital value, growth, bonds, rental info and specs.
Full portfolio view: View your properties individually or see your total portfolio combined.
Group similar properties: View properties by type, owner, area or any other personal preference.
Quick find: Find all your property specs and rental details at the click of a button.
Register Now
Back to the top
Performance reporting to identify your best properties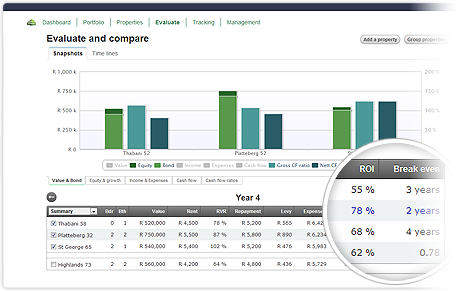 The Software shows you how your properties are performing by comparing cash flow ratio's, average growth, profits, return on investment, and more.
Property tracking: See key indicators to keep track of the performance of all your properties.
Performance comparison: Determine your best properties by comparing them side-by-side.
Property ranking: Identify best performing property types, classes and investment locations.
Register Now
Back to the top
Long term projections to determine your cash flow and future profits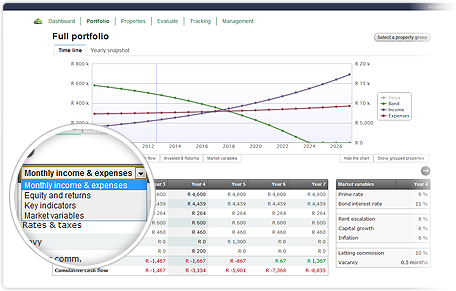 The Software let's you see where you're portfolio is headed. Effortlessly project future performance based on historic data, anticipated events and market changes.
Up to 20 year projections: See future break-even, cash flow,
bond value and capital returns.
Account for future market variables: Set market variables for your total portfolio or individual properties at any projected future year.
Unlimited flexibility: Project and compare potential properties, existing properties, or any other grouping
based on your preference.
Register Now
Back to the top
Cash flow planning so you can maximize your returns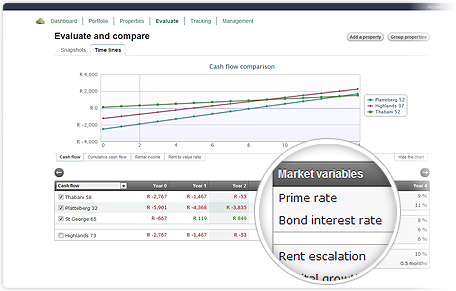 The Software enables you to determine your exact future cash flow. This helps in being prepared for the unexpected and to know when the time is right to buy your next property.
Property affordability: Determine the effect of new properties on your total portfolio's cash flow.
Cash flow sensitivity: See the effect of changes in interest rates, vacancies and routine maintenance on your portfolio.
Cash flow projections: Adjust for future inflation, rental increases and routine maintenance.
Register Now
Back to the top
Property comparisons so you can make the best investment decisions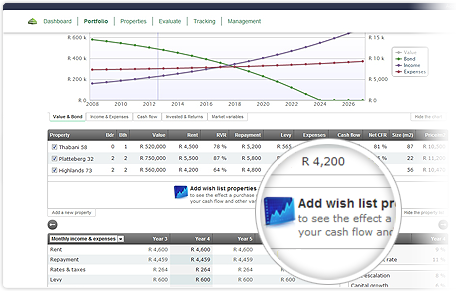 The Software let's you evaluate and compare different potential properties in terms of cash flow ratio's, return on investment,
break-even, purchase price, and property type and size.
Buy and sell right: Compare the future performance of new and existing properties to know which properties to buy and which to sell.
Compare key property stats: Analyze the cash flows and returns of different properties as well as past and future performance.
View best, normal and worst case figures: Compare and calculate scenarios based on different future market estimates.
Register Now
Back to the top
Rental tracking so you can optimize your cash flow and stay in control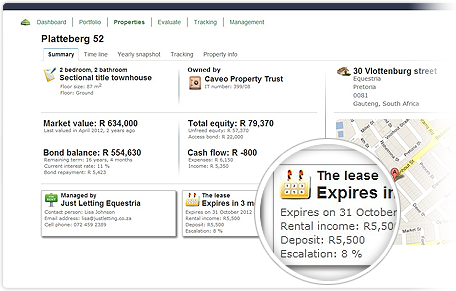 The Software let's you track your property's income and expenses easily so you can be on time with rental increases and lease renewals.
Track your cash flow: Confirm or modify each month's transactions as they occur and easily pick up missing income or increased costs.
Value and bond changes: Keep track of your property's equity by recording valuations and bond changes.
Automatic reminders: Get automatic reminders for rent due, expiring leases and cash flow tracking.
Register Now
Back to the top